Following two successful conferences in Vancouver, Canada (1997) and Taegu, South Korea (2000), the Third International Conference of Critical Geography will be held in Békéscsaba, Hungary, from 25th to 30th June 2002. The aim of the conference is to stimulate debate among critical geographers from around the world and to promote the development of critical geography.
---

Conference format
We have received many requests from participants in the first two conferences to give more time for discussion and debate and to reduce the time for formal paper presentations. To meet these requests we have developed a new format for the Third Conference.
The conference will have eight themes.
Each theme has one or two convenors, responsible for organising sessions in the theme.
Most sessions will be panel debates, roundtable discussions, workshops and other 'participatory' activities.
If written papers are presented they should be short (no more than four-five pages), written in plain, clear English or French, and circulated in advance.
Formal spoken presentations will be limited to 5-10 minutes.
It will also be possible to table a paper (that is, to present a paper in written form only, without a spoken presentation). The organisers will also be able to provide written confirmation of participation if required.
>>FORMATTING AND SUBMISSION GUIDELINES to those who wish to publish their papers in the Official Conference Proceedings.

Conference themes and coordinators
The conference will be organised around eight guiding themes. Themes will be 'supervised' by coordinators, who will be responsible for organising the sessions that fall under it.


1.
Critical geographical praxis: different challenges in different contexts
Coordinators:
Lawrence Berg (lberg@okanagan.bc.ca)
Blanca Ramirez (blama@edsa.net.mx)
This theme will build on the discussions begun in Vancouver and Taegu on the different meanings of being critical geographers across different national and academic contexts.


2.
Borders, Migrations and Displacement
Coordinators:
Anke Struever (a.struver@nsm.kun.nl)
Uli Best (u.best@plymouth.ac.uk)
This theme will focus on borders, migration and displacement, including the place of minorities and majorities in Europe, as well as questions of control, images and practices.


3.
Power, Territory and Transnationality
Coordinators:
Scott Kirsch (kirsch@email.unc.edu)
Altha Cravey (ajcravey@email.unc.edu)
This theme will focus on the changing geographies of state power as well as more de-territorialised power relations such as those associated with transnational flows of money and information.


4.
Geography of Nature
Coordinators:
Caroline Desbiens (desbiens@uga.edu)
Neil Smith (nsmith@gc.cuny.edu)
This theme will develop critical geographies of nature, including (e.g.) questions of political ecology, environmental justice and global food wars


5.
People's Geographies
Coordinators:
Don Mitchell (dmmitc01@maxwell.syr.edu)
This theme will continue and develop the successful 'People's Geographies' sessions at the Taegu conference, and will include issues of activism and being 'critical' beyond the academy.


6.
Spaces of Difference: Feminist, Postcolonial and Embodied Geographies
Coordinators:
Sue Ruddick (ruddick@esker.geog.utoronto.ca)
This theme will explore the geographies of difference, looking to feminist and postcolonial perspectives, as well as queer geographies and the geographies of the body and emotion.


7.
The Geopolitics of Europe
Coordinators:
Luiza Bialasiewicz (Luiza.Bialasiewicz@durham.ac.uk)
Fujio Mizuoka (fmizuoka@econgeog.misc.hit-u.ac.jp)
This theme will speak to the emerging geopolitical divides in Europe and the politics and geopolitics of European integration, while also addressing questions of comparison with transitions in other parts of the world.


8.
Critical Political Economies: Cities, Regions and the International Economy
Coordinators:
Byung-Doo Choi (bdchoi@biho.taegu.ac.kr)
Anders Lund Hansen (anderslh@image.dk)
This theme will develop critical political economic perspectives on current processes of urban and regional change in connection with economic and cultural internationalisation and 'transnational urbanism'.


9.
Special Sessions
The ICGG Statement of Purpose
Afghanistan

Conference Information
The conference will open with a Plenary Session and Welcoming Reception on the evening of Tuesday 25th June 2001 and will close after breakfast on Sunday 30th June 2001.

Fieldtrips
A Half-day trip within Hungary, on the afternoon of Thursday 27
>> ITINERARIES >> FIELDTRIP ROUTE MAP

A Two-day trip into Northwestern Romania, on Sunday, 30 June and Monday, 1 July
>> ITINERARY >> FIELDTRIP ROUTE MAP

Conference venue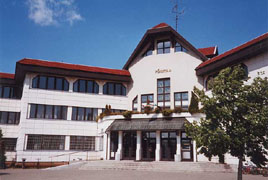 Békéscsaba (pop. 70,000) is in south-east Hungary about 200km from Budapest and 20km from the Romanian border. The town is the administrative centre for Bekes county. The conference is being hosted by the Great Plain Research Institute of the Centre for Regional Studies (part of the Hungarian Academy of Sciences). The main conference venue will be the local teacher training college (Tessedik Samuel Foiskola), which is about 15 minutes' walk from the town centre. Residential accommodation and most meals will be provided at the college and most sessions will be held there.
>>DETAILED PLAN OF THE CITY WITH CONFERENCE VENUES

LOCAL WEBSITE: Please enjoy virtual tour of the town by visiting Website of Békéscsaba :
http://www.bekescsaba.hu/indexe.html


Climate
Summers in Békéscsaba are very warm with daytime maximum temperatures around 30°C. Heavy thunder showers are likely from time to time.

Child Care
The organisers will endeavour to provide appropriate child care. Please indicate your child care needs on the registration form.

Publishers' Exhibition
Publishers interested in exhibiting should contact Gerry Pratt, University of British Columbia (gpratt@geog.ubc.ca).

Travel
Arrival by air:
Malev Hungarian Airlines and numerous other international carriers serve Ferihegy Airport in Budapest. From the airport take an Airport Minibus (not a taxi!) to Budapest-Keleti ('Eastern') railway station. There are about 8 trains per day to Békéscsaba. The journey takes 2 1/2 - 3 hours.
Arrival by rail:
There are direct international rail services to Békéscsaba from Bratislava, Bucharest, Istanbul, Prague, Thessaloniki and Vienna, with connecting services to and from cities all over Europe.
Arrival by road:
From Budapest take the M5 highway to Kecskemet and then road number 44 to Békéscsaba. There are more direct routes for those entering Hungary from the south or east.

How to take part
Identify one or two themes that you are interested in.
If possible, contact the relevant theme coordinators to discuss your contribution and the format of the sessions.
Register for the conference and pay the appropriate fee before 15 December 2001 31 JANUARY 2002.
Once registration has been completed, theme coordinators will contact you to finalise arrangements for the sessions.

Timetable for registration
| | |
| --- | --- |
| 1 October 2001 | First call for participation issued |
| Oct-Nov 2001 | Participants encouraged to contact theme coordinators to discuss format of sessions and individual contributions. |
| Nov 2001 | Final call for participation. |
| 15 Dec 2001 | Deadline for registration, including registration of interest in theme(s). |
| 31 Jan 2002 | Deadline for registration (WITHOUT surcharge) |
| Feb-Apr 2002 | Theme coordinators organise sessions for each theme in consultation with registered participants. |
| May 2002 | Organisers prepare final programme. |
| 1 June 2002 | Final programme published. |
| 25 June 2002 | Conference opens. |

Conference fees (in British pounds)
| | |
| --- | --- |
| Academics (faculty) employed in high income economies* | GBP 125 |
| Students and research staff at institutions in high income economies* | GBP 75 |
| Academics (faculty) employed in other countries | GBP 50 |
| Students and research staff at institutions in other countries | GBP 20 |
The fee covers registration, five nights' hostel-style accommodation (shared triple rooms), most meals, the opening reception and conference dinner. It does not include field trips, which are charged separately. Double or single occupancy of a triple room may be possible for an additional charge of GBP12.50 (single) or GBP6.25 (double) per person. Please indicate your preference on the registration form.
*List of high income economies (as defined by the World Bank)
Andorra, Aruba, Australia, Austria, Bahamas, Barbados, Belgium, Bermuda, Brunei, Canada, Cayman Islands, Channel Islands, Cyprus, Denmark, Faeroe Islands, Finland, France, French Polynesia, Germany, Greece, Greenland, Guam, Hong Kong, Iceland, Ireland, Israel, Italy, Japan, Kuwait, Liechtenstein, Luxembourg, Macao, Malta, Monaco, Netherlands, Netherlands Antilles, New Caledonia, New Zealand, Northern Mariana Islands, Norway, Portugal, Qatar, San Marino, Singapore, Slovenia, Spain, Sweden, Switzerland, United Arab Emirates, United Kingdom, United States, U.S. Virgin Islands.
---
Please forward all questions and inquiries to: 3rd.iccg@durham.ac.uk and check for updates on the ICGG web page: http://econgeog.misc.hit-u.ac.jp/icgg/
---

The Conference Organisers
Luiza Bialasiewicz (University of Durham, U.K.), Claudio Minca (University of Venice, Italy), Joe Painter (University of Durham, U.K.), Judit Timar (Centre for Regional Studies, Hungarian Academy of Sciences, Hungary)